Two Days Multidisciplinary
INTERNATIONAL WEBINAR
on the theme
"IMPACT OF COVID-19 ON HUMAN HEALTH, ENVIRONMENTAL PERSPECTIVES, WORLD ECONOMY,
TECHNOLOGY & FUTURE OF EDUCATION"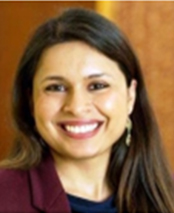 Dr. Sonikpreet Aulakh, MBBS, M.D.
A.P. Translational NeuroOnchologist
WVU Cancer Institute (USA)
Time: 10:00 AM -10:40 AM
Prof.  Dr. M.M. Goel
Needonomist & Former Vice-Chancellor
Retd. From K.U.K(Haryana)
Time: 10:40 AM -11:20 AM
Ritu Chhikara
A.P. BML Munjal University
Gurugram( Haryana )
Time: 11:20 AM – 12:00 PM
Who can attend the seminar ?
College/University  Teachers
Teacher Education Educators
School Teachers
Industrialist
Students
Certificate: E -Certificates will be provided to all webinar attended participants and sent to their given email Id,s with in 7 days  and hard copy will be provided later .
Feed back: All participants should fill the feedback form  with in 30 minutes after the completion of National Webinar . The link will be available  on the live Chat box.
Webinar Organizing Coordinators
Mr. Vinod Garg
Mrs. Jasleen Kaur
Mrs.Amneet Kaur
Webinar Organizing Committee Members
Dr. Eashtpreet Kaur A.P. , Dr. Anita Makkar A.P., Dr. Indu A.P., Dr. Saruchi A.P., Mrs. Kiran, Mr. Amreek Gill, Mrs. Priya, Mrs. Anku, Mr. Somvir, Mr. Shalender, Mrs. Nidhi Bansal, Ms. Madhu, Ms. Komal Saini, Ms. Palki Aggarwal, Ms. Anchal Bansal, Mr.Papal Ram, Mr. Pawan .